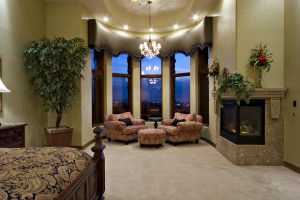 Window Fashion Vision Cover Article
The Elegant Window won First Place in Specialty Treatments at the International Window Covering Expo held in Las Vegas, Nevada in April, 2011.  This window treatment was featured on the cover of Window Fashion Vision magazine, July/August 2011 issue.  Click the link to see the magazine cover and story.  Window Fashion Vision Article
International Window Coverings "Workroom of the Year"
The Elegant Window was awarded "2009 Workroom of the Year" at the International Window Coverings Expo in Atlanta! This one-of-a-kind competition is the "Academy Awards" of the Window Covering Industry.
SewWhat? Custom Home Furnishing Conference
This awning won 2nd place in the Window Treatment Workmanship category at the SewWhat? Magazine's Custom Home Furnishings Educational Conference 2006.
WCAA Phoenix Designer's Expo
This drapery won 1st place in the Wall of Windows competition held at the WCAA Phoenix Chapter Designer's Expo 2007.
Custom Sewing Institute's Creative Camp
This cornice won 2nd place and it also won Crowd Favorite at Custom Sewing Institute's Creative Camp 2008.